Grading System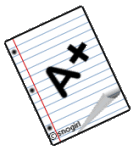 The students will be graded on their assignments, assessments and observation using the following letter grades:
100-96=A+ 95=A 94=A – Excellent
93-89=B+ 88=B 87=B - Great
86-82=C+ 81=C 80=C - Average
79-77=D+ 76=D 75=D - Below average
74 and below Failing
*You can check your child's grades by going to the Arlington School Home Page (www.arlington.k12.sd.us) and clicking on "student grades". If you don't have an account set up, contact Mr. Parry for a user name and password. Remember: Grades are only 1 part of your child's progress. Children progress at different rates so it is important that we measure individual progress as well.